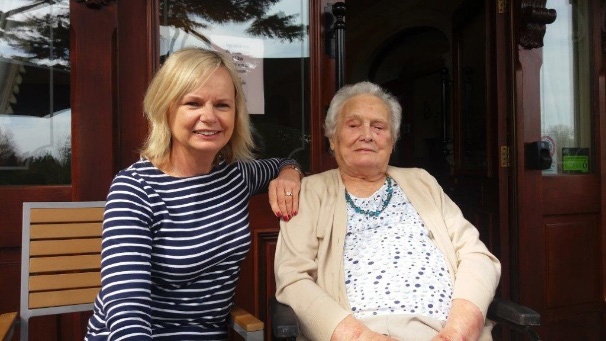 Prospect Private Nursing Home resident, Mrs May Caldwell has been a member of the Prospect family since November 2015. May is 92 years of age but blessed with the attitude and determination of someone many years younger.
She greatly enjoys spending time with the other residents and staff and is a keen participant in the many activities which are organised to fill the days of the residents at the nursing home.
Like many of our residents, May is a fan of our ice-cream days - a special treat where we organise a visit from the ice-cream van, Jim's Ices to come to the nursing home.
We asked May to share her thoughts on life at Prospect Private Nursing Home with us, and what she enjoys most about living here.
May said "I have a comfortable bedroom and everything's private. The food is good, but sometimes I have no appetite. There is so much variety. The staff here are very good to us and the entertainment is good. My family often come to visit me too".
May's daughter is keen to express that these comments came directly from her mother unprompted and that she is extremely happy with the quality of care her mother receives from the staff at Prospect Private Nursing Home.
If you would like to speak to any of our residents or relatives about their experience of Prospect Private Nursing Home, this can be arranged. Please telephone our reception on 028 2564 5813 or send us an email request to enquiries@prospectnursinghome.com.